Brother Genuine TZe-S631 Black on Yellow Extra Strength Adhesive Tape for P-touch Label Makers, 12 mm wide x 8 m long
Item #:

TZES631

TZES631

Brother
TZe-S631 P-touch black on yellow extra strength adhesive laminated tape is perfect for labelling even the toughest surfaces. Featuring Brother s exclusive laminated tape process, these extra strength adhesive labels can withstand extreme conditions both indoors and outdoors. See full product description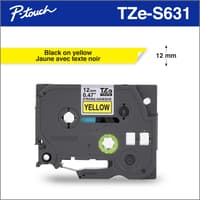 Brother Genuine TZe-S631 Black on Yellow Extra Strength Adhesive Tape for P-touch Label Makers, 12 mm wide x 8 m long
Item #:
TZES631
In Stock and Ready to Ship
Need supplies & accessories for this product?
Shop Now
Product Overview
Product Description
Brother Genuine TZe-S631 black on yellow extra strength adhesive tape is perfect for professional or industrial labelling applications.

Featuring Brother s exclusive laminated tape process and extraordinary adhesive properties, this tape is ideal for labelling even the toughest surfaces like uneven and rough textures, slippery painted metals and plastics, items exposed to harsh environments and many more.

These extra strength adhesive, durable labels have been designed, manufactured and tested in controlled environments at our ISO certified factories and put through a series of rigorous tests, so we can ensure the consistency and quality worthy of the Brother name.
Drop-in cartridges make TZe tapes quick and easy to load into your P-touch label maker and split-back, easy-peel backings deliver fuss-free application.

Available in many other label widths and colours, it s simple to find tapes that are right for all your labelling needs.
Main Features
Black on yellow extra strength adhesive TZe 12 mm tape
Perfect for labelling even on the toughest surfaces
Brother's laminated tape process creates long-lasting labels
Designed and tested in Brother's ISO certified factories
Withstand extreme conditions
Suitable for indoor/outdoor use in hot/cold environments
Use on even the toughest surfaces; leaves no residue behind
Drop-in cartridges deliver fuss-free loading
Split-back, easy-peel backings for quick application
Available in many other widths, colours and materials
Specifications
Compatible with