For a job well done!
Brother offers tapes, ribbons and labels for your home, office or industrial labelling needs. With a wide variety of colours, sizes and styles, our products are engineered for indoor or outdoor use.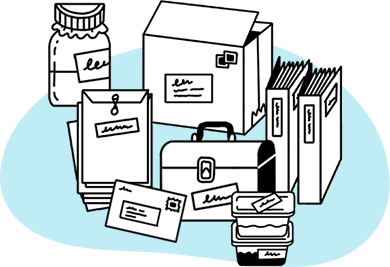 Discover our tapes, ribbons and labels.

For anything, anytime, anywhere
Designed for use with P-touch labellers, Brother's TZe tapes are engineered with an innovative laminated tape technology that combines six layers of materials for exceptional durability and performance over non-Brother Genuine labels. With over 60 colour and size variations, the range includes standard laminated tapes, decorative tapes and ribbons and special function tapes.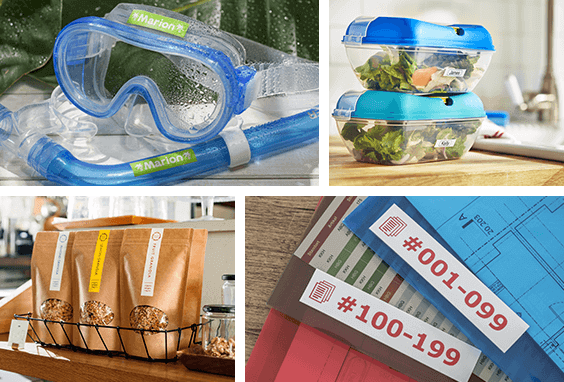 Our standard laminated tapes offer a wide variety of colours and sizes for your everyday home, home office and general business office needs.
Laminated Decorative Patterned Tapes
Easily add special touches to crafts, gifts and so much more with personalized decorative tapes.
Non-Laminated Decorative Satin Ribbons
Enhance gifts, party favours, cards, invitations, crafts and handmade treasures with our wide selection of non-laminated, non-adhesive satin ribbons.
Ideal for unusual surfaces, textures and a variety of materials, our specialty tapes like extra-strength adhesive, flexible ID, tamper evident and fabric iron-on tapes can handle even the toughest applications.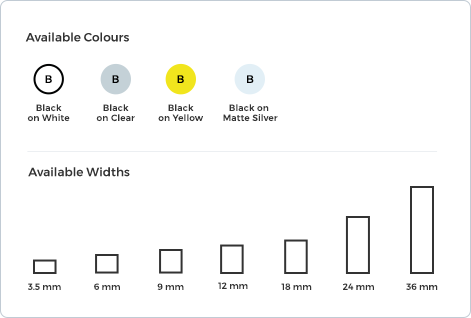 DISCOVER SPECIALITY TAPES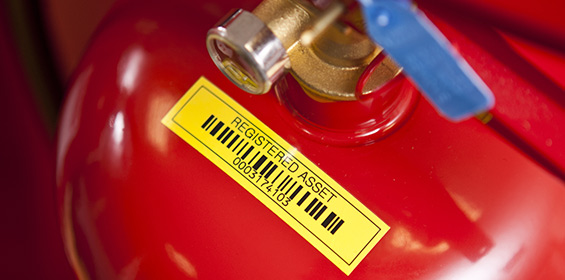 Extra Strength Adhesive Tape
With extraordinary adhesive properties, this laminated tape is ideal for labelling even the toughest surfaces like uneven and rough textures, slippery painted metals and plastics, items exposed to harsh environments and many more.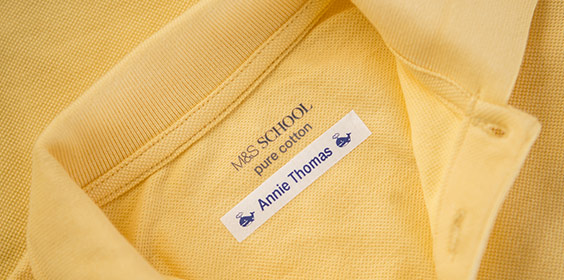 Fabric Iron-on Tape
This tape produces white cloth labels with navy blue lettering that can be ironed on to virtually any cotton item. Perfect for labelling workwear, kids' clothing and more.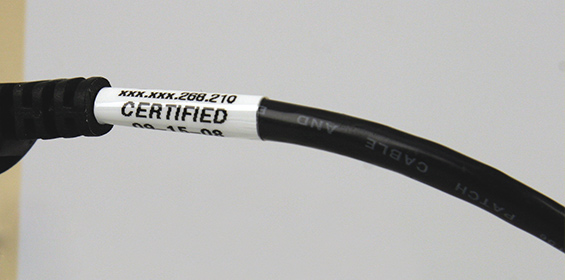 Cable Wire (Flexible ID) Tape
Featuring a specially formulated adhesive, this tape is designed to stick to itself and to laminate. Great for wrapping around items and for labelling cylindrical surfaces like cables, PVC piping, etc., it is perfect for wire wrapping and flagging.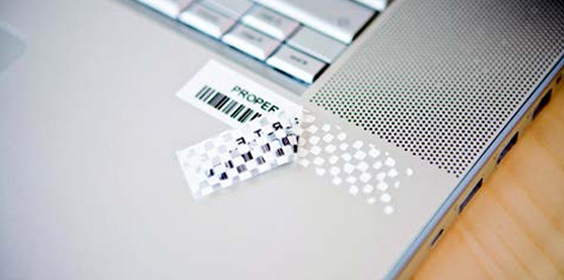 Tamper Evident Tape
Used primarily for property security applications, this tape has a special telltale adhesive that leaves behind a checkerboard pattern if the label is removed from an item, making it obvious that someone has tampered with the label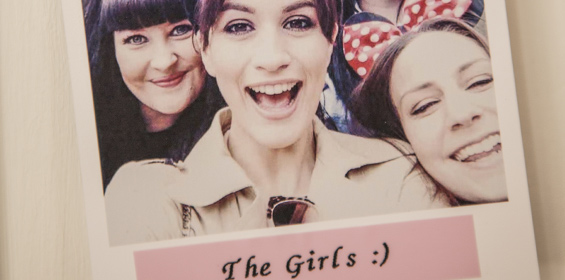 Scrapbook Photo-Safe Tape
This tape features our exclusive laminated tape process and acid-free adhesive making it perfect for everyday use, photo-safe applications and scrapbooking.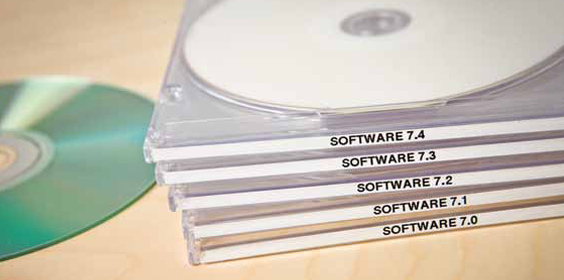 Super Narrow Tape
This non-laminated tape comes with our standard strength adhesive and is recommended for home and indoor use only. Best suited for flat, dry surfaces, it's perfect for school projects, file folders and other basic labelling needs.


For whatever your
business needs
Designed for the QL range of label printers, our wide variety of pre-cut labels and continuous roll tapes gives you the ability to easily and quickly create labels in standard sizes or cut to your specifications – you can even print labels and signage up to 3 feet long. Unique to Brother is the ability to print in red* as well as black so you can add extra visibility to important labels.
*Two-colour printing requires a label printer from the QL-800 range and DK2251 tape.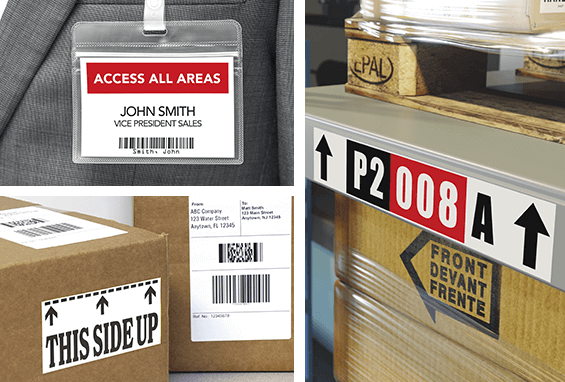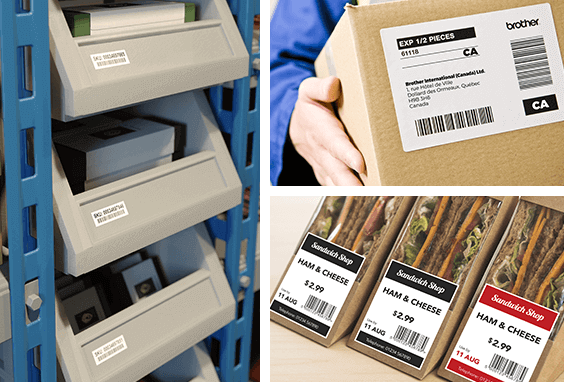 Brother offers convenient drop-in rolls of die-cut (pre-sized) labels that are cut into common label shapes typically used for mailing and in office environments. Die-cut labels come in the following formats:
Paper labels
Perfect for creating low cost labels for general office use such as envelopes, shipping packages, file folders, name badges and so much more.
Film labels
Ideal for labelling applications that require resilience and added durability such as labelling CDs and DVDs.
DISCOVER OUR LABELS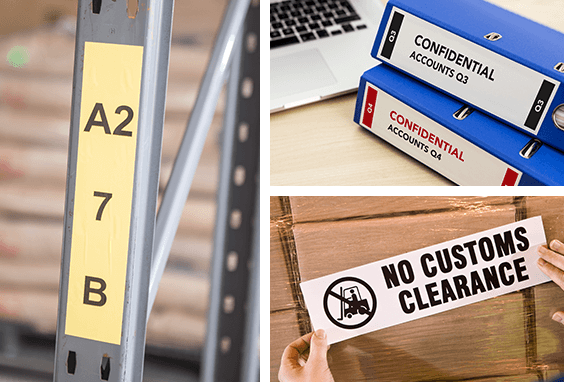 Brother offers continuous drop-in tape rolls for added flexibility, so that you can determine the label length. Continuous length tapes come in the following formats:
Paper labels
Low cost labels for general office use where continuous paper labels in various widths are required. Perfect for long shipping labels, binder spines and more.
Film labels
Labelling applications that require added durability and longevity. Perfect for storage boxes, indoor window displays and cost-effective signage.
Removable labels
Labelling applications where labels need to be removed. Perfect for reusable name badges, removable banners, cost-effective signage and displays.
Discover our continuous length tapes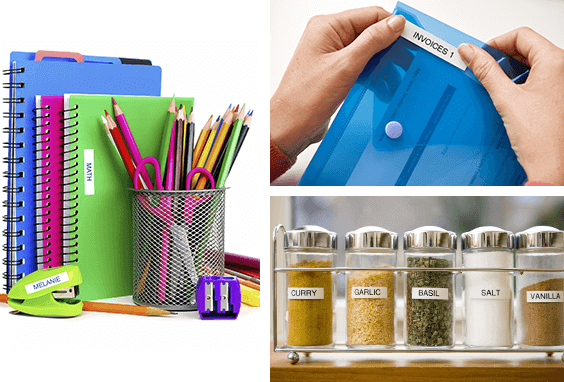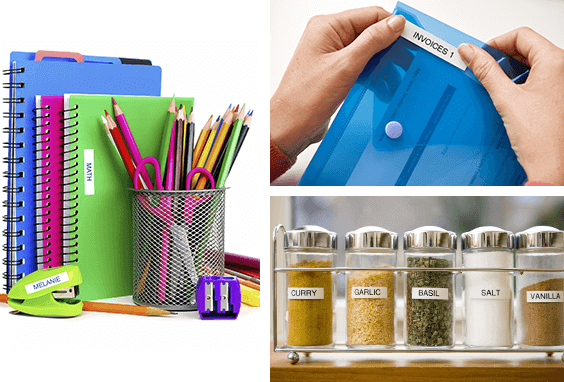 For the simple things
Non-laminated M tapes are ideal for creating temporary indoor labels for home, home office, school or hobby purposes.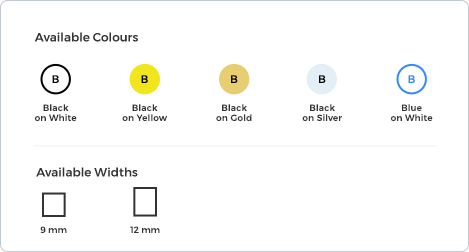 DISCOVER OUR TAPES
Videos

Tapes that are tested and true

We put Brother tapes to the test to showcase just how durable they are. Thanks to our laminated tape technology, they're designed to withstand the toughest conditions. Check out our video to see how they did.

Sorry, your browser doesn't support embedded videos.

Create the labels you need

Specifically designed for the QL range of label printers, our exclusive continuous roll technology delivers significant cost and time savings by removing the need to use multiple rolls for different jobs.

Sorry, your browser doesn't support embedded videos.

Enhance anything and everything

Create customized ribbons and tapes for all your organizational projects, crafts, gifts and more with Brother P-touch labellers.

Application use

Office supplies

School supplies

Information signs

Food labelling

Tupperware

School & camp gear

Usage Cables

Gift Wrapping

Pantry Organization

Pantry Storage

Christmas Craft

Lootbags

Laundry Room Organization

Gifting

Memory Book

Food Labeling

Candy Bar

Toy Storage

Storage Bins

Meal Preparation

Wedding Flavors

Party Favours

Garden

Garage Organization

Panel Identification

Pharmacy Storage

Office Equipment

Refrigirator Items

Clothing

Tool Storage

FREQUENTLY ASKED QUESTIONS

How thick are TZe tapes?

TZe tapes are around 160 micro metres in thickness, but this varies slightly by tape type.

When I remove the label, will messy adhesive remain? How can I remove it?

Tapes can be removed from most materials with relative ease leaving little or no adhesive on the material. Extreme heat, humidity and certain chemicals may result in some residual adhesive being left but this can be removed in most cases with ethanol.

What is the shelf life of an unused TZe tape?

The shelf life of an unused TZe tape is 15 months from production.

Do TZe tapes contain chloride?

No chloride materials are used in the cassette case, tape or ink.

Do TZe tapes create any outgassing?

The following gases may be produced when labels are in a hot environment such as in front of an air conditioner: toluene, n-butanol, 2-ethylhexyl alcohol, butyl carbinol acetate. These levels are however, very low.

Can TZe tapes be submerged in alcohol?

Submersion of TZe tapes in alcohol is not recommended for extended periods due to the possible deterioration of the tape adhesive.

Is it safe to burn a P-touch label?

Although there may be some halogen in TZe tapes, it is of a very low level making it safe to burn TZe tapes.

Do TZe tapes contain silicon?

Since the tape liner itself is silicon coated on both sides, there is a chance that small amounts of silicon may remain on the adhesive layer underneath the label even after the liner is peeled off.

Do TZe tapes contain latex?

TZe tape uses acrylic based adhesive materials and do not include latex.

Does TZe tape contain lead?

There is no lead in the cassette case, tape or ink.

Can TZe tapes be used on circuit boards?

We do not recommend TZe tapes for use on circuit boards due to the sensitivity of circuit boards to dust, static electricity and acid (although these are at very low levels in TZe tapes).

Can TZe tapes be used on copper?

As adhesive materials used in our tapes are acrylic and weakly acid we do not recommend the use of TZe tapes on copper.

How long should security tape be attached before peeling off?

We recommend that TZe security tape is affixed for at least 24 hours in order to work effectively.

Can DK tapes withstand extreme temperatures?

DK film labels are unaffected in temperatures ranging from -80°C to +80°C and DK paper labels are unaffected in temperatures ranging from -80°C to +60°C, with only slight discolouration occurring at +80°C. However, if you need labels for long-term use in extreme temperatures, it is suggested to use laminated labels.

Which type of DK tapes are best for curved surfaces?

DK film tapes adhere better and longer than paper tapes. The larger the diameter, the better the adhesion. For objects with smaller diameters, it is better to use TZe Flexible ID labels.

Can DK tapes be used for long-term use?

DK tapes are ideal for long-term indoor use and only for short-term outdoor use as they may be affected by fading outdoors. Because of this, it is recommended to use laminated labels outdoors.

If exposed to chemicals or water, will DK labels get damaged?

In a test where DK film and paper labels were rubbed with or submerged in a variety of chemicals and water, they did not show major signs of damage (except in the cases of ethyl acetate and acetone). Some liquids caused slight discolouration but the text was still legible. For best results, use laminated labels whenever labels will be subjected to chemicals and water.

I need flexibility when it comes to label sizes and materials? What are my options?

DK labels and tapes come in a wide offering of pre-sized, die-cut standard labels for a variety of common uses such as file folders, CD labelling, address labels and more. If you need labels that are different sizes, our selection of continuous tape labels is perfect for you.